The Impact of the Caregiver
in Healing the Soul Wounds of Veterans with PTSD
(Post Terror Soul Distress) … especially at end of life.
 An award-winning film that reveals 7 powerful STEPS to peace.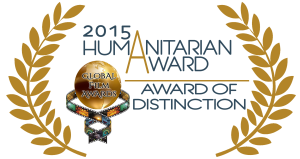 Awarded by the Accolade Competition honoring filmmakers who bring awareness
to issues of ecological, political, social justice, health, and spiritual importance.
ABOUT GO IN PEACE!
"A film that raises the consciousness of a nation…"
Kandyce Powell, RN, MSN, Chair of the National Veterans' Advisory Council, founder of the Veterans-Hospice Partnership program.
THE PREMISE FOR GO in PEACE! by Karen van Vuuren, Director.
Veterans are an invisible population for many of us and the soul wounds of those who have experienced war are equally invisible.
I was recently in a room full of caregivers and asked who worked with veterans, and just two people raised their hands. The reality was that most of these people worked with veterans, but never realized it. This film is for YOU… the family member, the friend, the acquaintance, the co-worker, the caregiver, the clinician… because you all know veterans.
Caregivers often have little or no understanding of how past trauma can affect a patient (especially a veteran) who is facing his or her own mortality, through illness or because they are in the dying process. Go in Peace! demystifies the nature of soul wounding in veterans, explains how environment can trigger trauma in a patient, and reveals how the caregiver can create a safe environment conducive healing.
My father, Jack, a World War II veteran, is the inspiration for Go in Peace! though he does not appear in the movie. Jack waited until he was on his deathbed to reveal the extent of his soul wounding from involvement in war. You can read more about the background of Go in Peace! HERE, as well click on the links to reviews, below.
Go in Peace! features:
The profound wisdom of Deborah Grassman, former VA Advanced Registered Nurse Practitioner, Author of Peace at Last: Stories of Hope and Healing  for Veterans and their Families, and founder of non-profit, Opus Peace. Grassman has sat bedside with thousands of vets at end of life.
& Dr. Ed Tick, NY Times best-selling author of War and the Soul and Warrior's Return: Restoring the Soul after War. Director of Soldier's Heart Project. Dr. Tick leads healing retreats for veterans with trauma and accompanies them on trips to find reconciliation and peace in Vietnam, with the Vietnamese people.
Go in Peace! was chosen to screen at the 2015 National Hospice and Palliative Care Organization's annual clinical conference. 
      MEDIA COVERAGE
Healing Touch Magazine HERE.
Pulitzer Prize-Winning Journalist, Eric Newhouse in PSYCHOLOGY TODAY! HERE.
Spirituality and Health Magazine HERE.
Everyday Health HERE.
The Boulder Daily Camera HERE.
    7 STEPS in the
PROCESS
1. Recognize the veteran and the "soldier in the person."
2. Understand the symptoms of PTSD (renamed by Dr. Ed Tick, Post Terror Soul Distress).
3. Create safe physical and emotional space.
4. Prepare yourself and find the courage to ask the difficult questions to "open the can of worms" in veterans.
5. Listen without judgment and validate what you hear, without belittling or dismissing.
6. Create opportunities for ritual… for purification, forgiveness, acknowledgement of grief and loss.
7. Support opportunities for atonement.
CONTACT filmmaker, Karen van Vuuren for more information about using Go in Peace! for caregiver education or to host a screening.